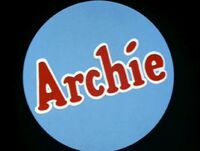 The Archie Show is a Saturday morning cartoon animated series produced by Filmation. Based on the Archie Comics, created by Bob Montana in 1941, debuted on CBS in September 1968 and lasted for one season. A total of 17 half-hour shows, each containing two 11 minute segments, were aired. Archie cartoons continued to be aired in various forms until 1978.
List of Episodes
Edit
Ad blocker interference detected!
Wikia is a free-to-use site that makes money from advertising. We have a modified experience for viewers using ad blockers

Wikia is not accessible if you've made further modifications. Remove the custom ad blocker rule(s) and the page will load as expected.