Tay Ming (Earth-MLJ)
Base Of Operations
Chinatown, San Francisco, California
Characteristics
Status
Origin
First appearance
Last appearance
Character Links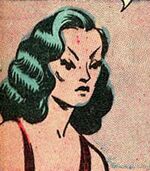 Tay Ming first encountered Fu Chang on the streets of Chinatown, when the Dragon was attempting to force her into marrying him in order to save her father, Soy Ming, from being wrongly convicted of the murder of a Chinese sailor. Fu Chang correctly deduced that it was the Dragon that murdered the sailor and not her father and thus concocted a plan to expose the man for the murder.
The two worked together on several adventures and became very close. On one accasion Princess Ling Foy attempted to kill Tay Ming in order to free Fu Chang from their relationship in order for her to have him to herself.
Soon Tay Ming became Fu Chang's fiancee as they faced one of their greatest foes, Joodar with whom they has battled on multiple occasions. On one such occasion, Joodar magically summoned water demons to try and take over the Chinatown of San Francisco. However, he is discovered by Fu Chang and Tay Ming as they were having a romantic stroll on the beach in the moonlight. Joodar commanded the water demons to kill Fu Chang and take Tay Ming out into the waters of San Francisco bay and hold her there for him. Fu Chang survived and again confronted Joodar and knocked him out with one punch. Then with his chess pieces, Fu Chang uses clay pellets to destroy the water demons and free his beloved.
On another occasion Joodar used his genius level intellect to create scientifically altered insects to infect the citizens of Chinatown with various deadly diseases. The evil magician released the insects to plague the residents of Chinatown with mysterious illnesses. Once again he was defeated by Fu Chang with the aid of his Chess Pieces and his beloved Tay Ming.

Powers and AbilitiesEdit
Powers
None

ParaphernaliaEdit
Equipment
Fu Chang's Magical Chess Pieces
Related
Links
Footnotes