Needlenoodle (Earth-MLJ)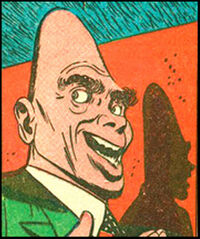 Current Alias
Needlenoodle
Characteristics
Status
Occupation
Mobster Leader
Origin
First appearance
Appearance of Death
Character Links
What a spot! Needlenoodle means business! Once the Black Hood's exposed, he's through! And yet, I can't let him kill Mac! I can't!

-- Black Hood  
Needlenoodle was the gang leader who arranged for the kidnapping of Sergeant McGinty in order to expose the identity of the Black Hood. Patrolman Kip Burland was assigned to the case. When he discovered the gang's hideout, Needlenoodle was about to kill McGinty at point blank. Unfortunately, to save his friend, Kip had to reveal his "hero" identity in front of the gang and their hostage.
Kip was able to rescue McCinty, but was forced into retirement. He quite the police force, and also being a costumed hero. He opened his own private detective agency and hired his confidant Barbara Sutton as his secretary. Together they went after Needlenoodle who was killed during a chase through the railroad yards.

Powers and AbilitiesEdit
Powers
None.

Recommended ReadingEdit
.
Related
Links
Footnotes
Template:NoDeathSpoils