Jughead Jones (New Riverdale)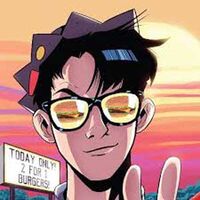 Real Name
Forsythe "Jughead" Pendleton Jones III
Affiliation
Riverdale High School
Base Of Operations
Riverdale
Characteristics
Status
Occupation
High School Student
Origin
Character Links
The New Riverdale version of Jughead Jones is a lot like his classic counterpart. His favorite activities include eating and playing video games.
When Jughead was younger, his family were once wealthier than they are today and spent a good portion of his childhood rich. His father, however, made a bad investment in a water bottling plant called "PureJug", causing his family to go bankrupt and making the other kids give him the nickname "Jughead".
Jughead later came out as asexual.

In Jughead #4, it's stated that he is asexual.
Related
Links
Footnotes