Blane Dinglebottom Whitney
Characteristics
Status
Occupation
Owner and Publisher of The Daily Record.
Education
Advanced degrees in many fields
Origin
History
Blane Whitney began showing signs of mental wizardry as a child. His father encouraged him to develop his abilities, which seemed to grow with each passing day. Not only did he develop great mental aptitudes, but he excelled in physical activities as well.
During the years of World War I, Blane developed a powerful corrosive agent that he wanted to use against German ships, however, the war ended before his discovery could be used as a weapon. Blane was commended by the American president personally for his achievements.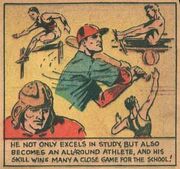 After the great war had ended, Blane finished high school and then went on to college where he continuously impressed his professors, fellow students and especially young ladies, with whom he never pressed his advantages, always acting the perfect gentlemen.
He used his powers to fight foreign menaces during WWII, but for reasons never explained, he became a villain much later in life.
In his earlier career, he took down several spy rings, including the Mosconian Spies. During at which time he met, and fought alongside, his best friend the Shield.
He also met a 12-year old boy who witnessed a gang shooting and fought off one of the gunmen. When the Wizard intervened, he took the orphaned boy under his care. Both teamed up to fight crime and the boy would become his sidekick — Roy, the (original) Super Boy.
A few months later Blane did marry Jane and she learned of his secret identity.
Notes
Trivia
See Also
Links and References
Ad blocker interference detected!
Wikia is a free-to-use site that makes money from advertising. We have a modified experience for viewers using ad blockers

Wikia is not accessible if you've made further modifications. Remove the custom ad blocker rule(s) and the page will load as expected.